Design Essentials
In addition to knowing the jewelry ring and setting basics, it's also very helpful to understand the essentials of jewelry design, such as basic pendant and bail styles, chain styles, clasp styles and some of the most popular bracelet styles.
CENTER SETTINGS / GALLERY STYLES
The center diamond or gemstone setting of a custom jewelry design is often the main attraction, and there are many options available. These settings work with rings and some pendants and earring sets.
Basket setting, double prong basket setting and claw prong basket setting are classic prong-style settings that are admired for their simplicity and ability to show off the majority of a diamond or gemstone.

Bezel setting, split-bezel setting, and bar setting: these settings are appreciated for their contemporary looks and the way they securely hold diamonds and precious gemstones.
4-prong peg head, 6-prong peg head, and v-prong peg head: these 'peg' settings are used in semi-mounts and are soldered to the base of a ring or other piece of jewelry towards the end of the manufacturing process. They lend a classic look and versatility to custom jewelry designs.

Trellis gallery style: a trellis gallery has curved, sweeping lines that start at the bridge, crossover under the center stone setting, and end as prongs.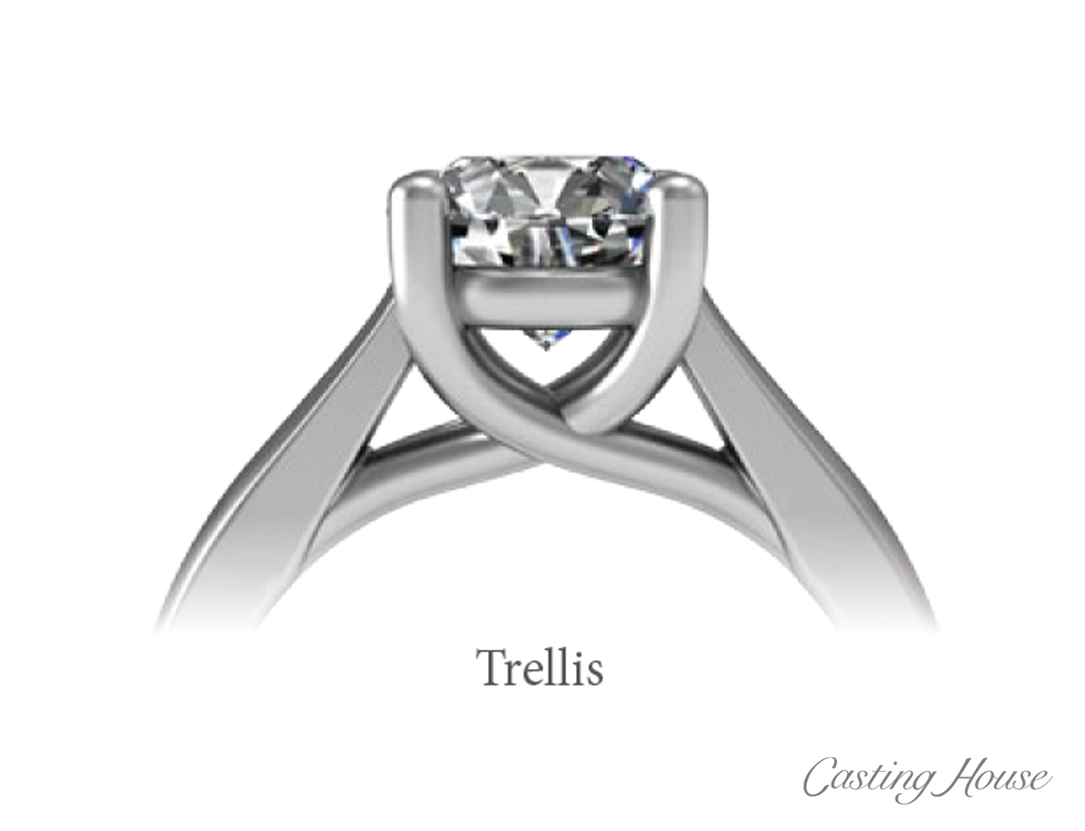 3-stone gallery style: a variation on any center stone setting, a 3-stone gallery simply has three center stone settings lined up across the top of the ring.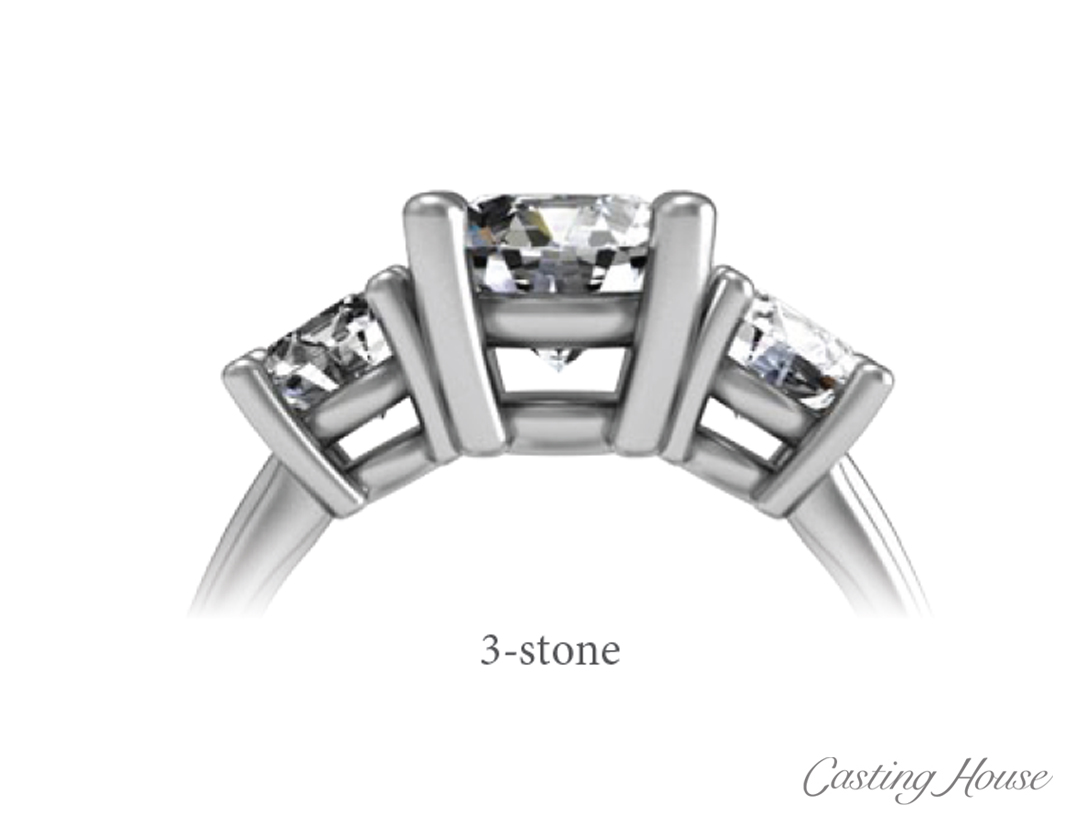 PENDANTS AND BALES
Pendants and bales, which attach the pendant to the chain, can be mixed and matched in a variety of ways to create interesting combinations. Here are several of some of the most popular styles.
Bezel set pendant with standard bail: the simple, standard bail is affixed to the bezel.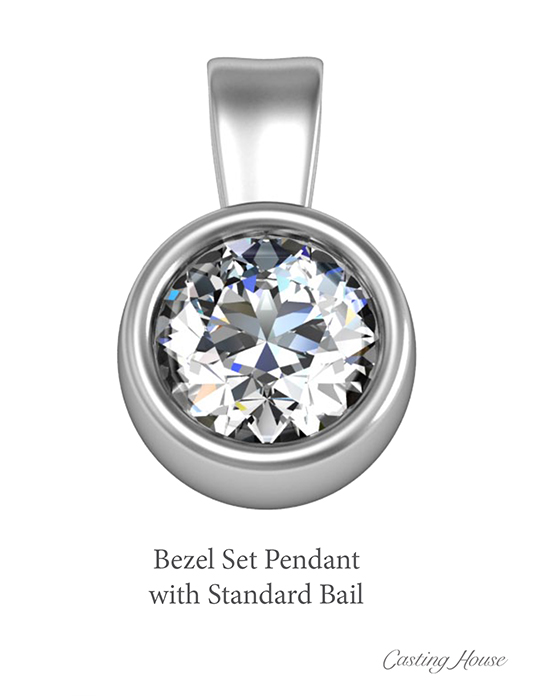 Shared prong cluster pendent with jump ring bail: the jump ring helps give this cluster pendant movement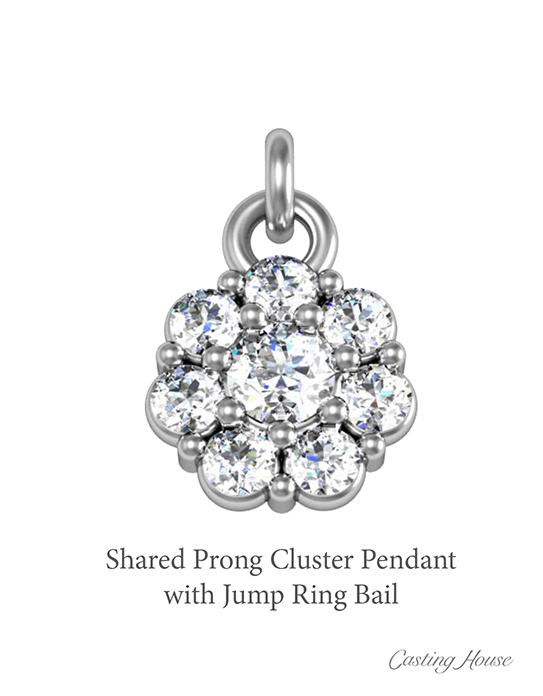 French V split halo pendent with hidden bail: the bail is concealed behind the halo pendant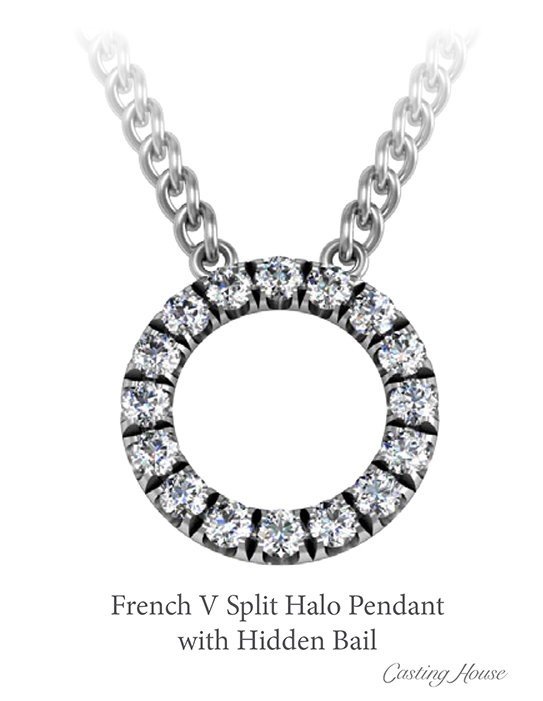 Basket pendant with rabbit ear bail: the classic basket pendant with simple prongs is centered by the open rabbit-ear bail
CLASP STYLES
Clasps are important for giving your jewelry the perfect finishing touch and for keeping a necklace or bracelet secure on the wearer. The clasp you choose should depend on style, as well as wearability and required durability.
Pictured: Hook & eye clasp, box clasp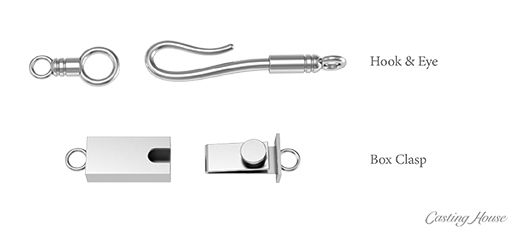 Pictured: Bar & ring toggle clasp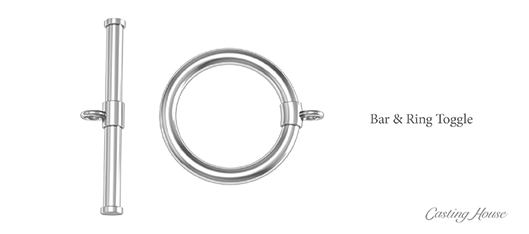 Pictured: S hook clasp, lobster clasp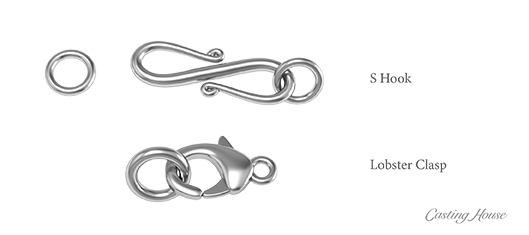 CHAIN STYLES
The right chain will complement your pendant or design or even look great worn on its own. Chains are made in a variety of styles, weights, and lengths, so it's important to consider your options when choosing the right one.
Chain styles, as pictured from top to bottom: cable chain, flat link chain, snake chain, omega chain, ball chain, box chain, wheat chain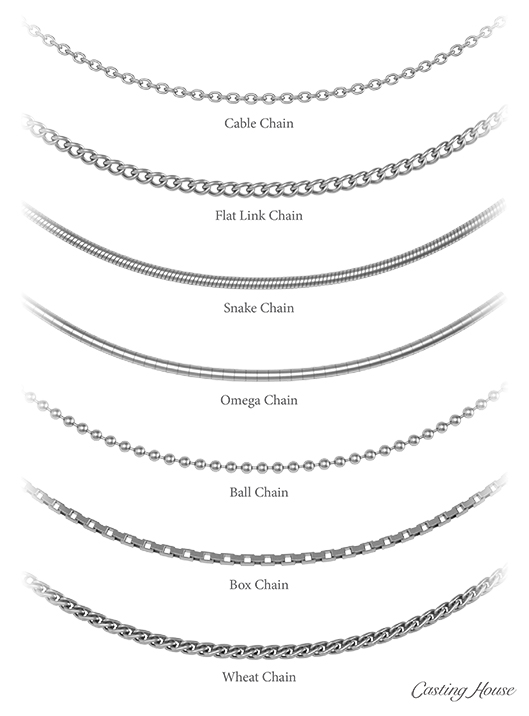 BRACELET STYLES
Three simple but classic bracelet styles are commonly created in custom jewelry design:
Bangle bracelet style: most bangles slide over the hand, while some bangle bracelets are hinged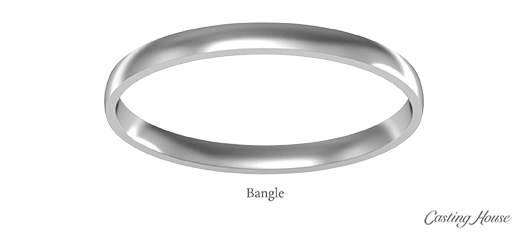 Cuff bracelet style: usually cuff bracelets are fairly rigid, although the size may be adjusted slightly with a gentle squeeze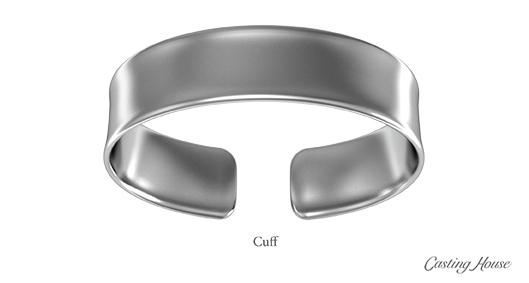 Chain bracelets: these are flexible and should secured with a durable clasp