CAD/CAM Services
The sky is the limit when it comes to jewelry designing. Unfortunately, it can be difficult to take what your imagination creates and turn it into an actual product. That is why you should consider Casting House's professional CAD/CAM services.
Let Your Creativity Shine With Our CAD/CAM Services
Our CAD/CAM services allow jewelry stores and jewelry designers to think outside the box when it comes to creating custom jewelry. No longer are they bound by what they can physically create by hand. Instead, a computer software program can help turn a creative and innovative design concept into reality.
The CAD/CAM services at Casting House are ideal for jewelry designers that want to create new pieces for their own private line or for jewelry stores. Jewelry stores will also find these services helpful as they can offer customers the chance to create unique, personalized pieces of jewelry; or they can create one-of-a-kind jewelry only sold at specific jewelry stores.
Discover the Difference Between CAD and CAM Services
CAD and CAM services are often thought to be the same, but they are two different types of services that can help jewelry stores and jewelry designers.
CAD (computer-aided design) describes the use of computer software programs to create 2D or 3D models. When creating the models in a CAD software program, Casting House provides its customers with the ability to view the piece of jewelry from all types of angles — including the inside, from the top, or the sides.
When the design phase using the CAD software is complete, we deliver a screenshot from the .STL or .3DM file(s) along with digital renders to illustrate the entire design and layout of the jewelry piece for final approval. That file is then used to create physical prototypes of the jewelry, which are made with the use of CAM software and growing machines.
CAM (computer-aided modeling) is the use of software programs and machinery to create and manufacture a 3D object. Upon completion of working with a CAM program and machines, a 3D wax model is created which physically represents the way the final product will look.
CAD and CAM services are often combined because they are so similar. Typically, the CAD software is used to create a digital layout of a piece of jewelry, whereas the CAM software/growing machines generate a prototype of the final product.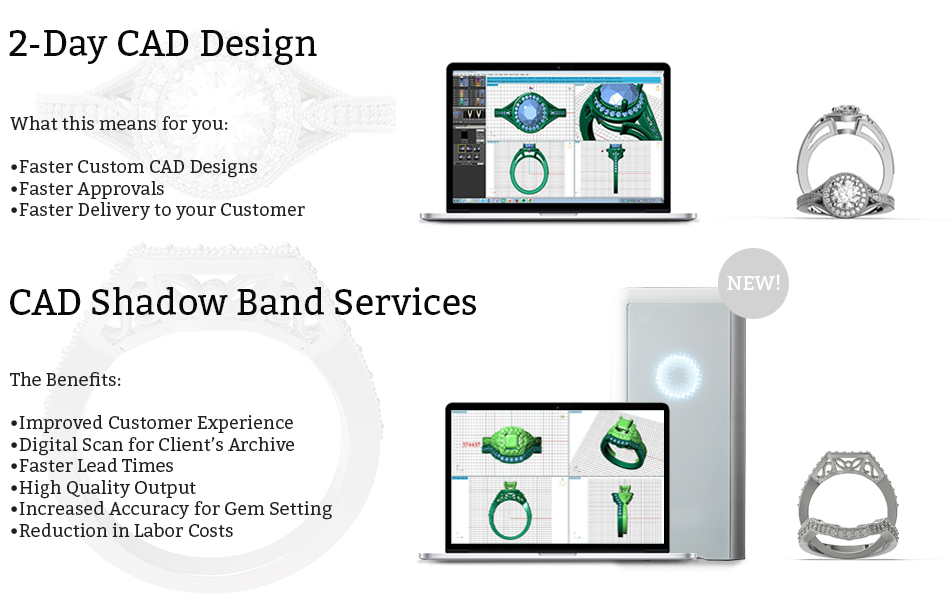 Let Us Make Your Design Ideas Come to Life!
Whether you are a jewelry designer looking to create new pieces or a jewelry store that wants to expand your services or inventory, the CAD/CAM services offered by Casting House will be able to help.
Jewelers and designers choose Casting House because of our unique services. When it comes to CAD/CAM services, Casting House provides the following:
2-day CAD designs

CAD shadow band services

Creation of prototypes

Creation of castable models

Grow design made with wax

Creation of digital scans of designs for archives
We Can Grow Your CAD File
The CAD/CAM Services department accepts STL and 3DM files for model creation using our array of rapid prototyping machines and methods. All methods of production are assigned to produce the highest quality output. High-resolution photo-plastics for model mastering are available, as are highly castable models for approvals, molding and casting.
Growing Machine Options:
EnvisionTEC

Digital Wax

Solidscape

Wax Milling (when applicable)
Material Options:
Photo-Ceramic (master/mold)

Photo-Plastic (mold/approval/direct cast)

Wax (mold/approval/direct cast)
Why Choose Casting House for Your CAD/CAM Services?
Casting House is a full-service custom jewelry manufacturing company that provides jewelers and designers with access to manufacturing solutions that will help grow their inventory. For over 30 years, Casting House has helped more than 2,000 jewelers all across the world.
Customers who have used Casting House's CAD/CAM services have noticed improved customer experiences, faster lead times, reduction in labor costs, and faster delivery times of a final product to the customer.
Fast, Quick and Reliable Services From Casting House
Time is of the essence when it comes to creating jewelry. No one wants to wait for days or even weeks for a prototype of the finished product. That is why Casting House offers a two-day turnaround on all standard CAD designs and CAD shadow band services.
A two-day turnaround allows our customers to get their finished product in a timely manner. There is no lengthy wait period between the time when the design is created and a prototype is manufactured and sent.
Even though our CAD jewelry design services are quick, they are extremely reliable. Our production methods are designed to produce the highest quality output.
Contact Casting House today to learn more about our CAD/CAM services. A personal job coordinator will contact you to discuss how our CAD/CAM services can help you make your jewelry designing dreams a reality.
To get started, contact your job coordinator today.
All files received by 2:30 p.m. CST will be cast and ready to ship in as little as two business days.
We offer price breaks to customers who use both CAD/CAM services and casting services.
New clients please contact Kim Ouellette, VP Key Accounts at info@castinghouse.com or (312) 924-3910