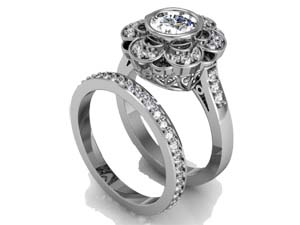 Casting House provides many of our clients with the gemstones required to complete their custom jobs. We stock our own goods and have strong relationships with several of the nation's best known diamond houses.

Diamond Melee
From ideally cut, high-color melee to budget conscious goods, Casting House provides you with exactly what you need to give your customer what they want. We consistently offer three diamond melee quality grades that fall into the following categories:

"AAA" Diamond Melee
We consider our premier "AAA" diamonds "collection goods quality."
These round brilliant diamonds are very good to excellent cut for maximum brilliance.
"AAA" diamond quality:
· F - G Color
· VS2 - SI1 Clarity
"AA" Diamond Melee
Good to very good cut round brilliant diamonds.
"AA" quality:
· G - H Color
· SI1 - SI2 Clarity
"A" Diamond Melee
Good cut round brilliant diamonds.
"A" quality:
· G - I Color
· SI2 Clarity

Receive a Quote
To request a diamond quote, please This e-mail address is being protected from spambots. You need JavaScript enabled to view it with the specifics of your job. We will provide you with a quote within 24 business hours.
Client Valuables Handling Policy
Casting House follows thorough client valuable handling procedures to ensure that they receive the best care possible. First, we accept and inventory client valuables received (loose diamonds and gemstones, jewelry, etc.) under camera surveillance. Then, we forward client valuables to our quality team to inspect them under magnification. Our quality team reviews client valuables for various details and records their findings.
Specific to diamonds and gemstones, the quality team reviews them for durability-threatening inclusions, notating their findings on a valuables check-in document. Should your diamonds or gemstones have inclusions or defects that may threaten the integrity of the stone(s) during setting, your Casting House representative will contact you with that information. You will then have the opportunity to decide whether you'd like us to proceed with setting, and if so, you will be asked to release Casting House of liability and to give your consent to setting via email or fax. Casting House reserves the right to decline setting a diamond or gemstone that is deemed too fragile.
While Casting House maintains a rigorous quality review process of client valuables and best in class craftspeople who work with your valuables to create your jewelry, at this time we do not take financial responsibility for damage to colored gemstones, fancy cut diamonds, round diamonds of SI2 clarity or lower and any other diamond deemed unsuitable for setting. However, in the very unlikely event Casting House may damage your diamond or gemstone, Casting House will bear the cost of having your stone re-cut. Specific to natural, untreated round brilliant diamonds of SI1 clarity or higher (with no other concerns noted as mentioned above), should damage occur to your diamond, Casting House will pay to have the diamond re-cut and recertified (if applicable). Also, Casting House will pay for the difference in value as determined by Rapaport pricing (for additional details, please inquire).