As a premier palladium caster, Casting House offers a palladium ruthenium alloy and two types of gold palladium alloys. This popular metal yields a beautiful finish and is an excellent, cost-effective alternative to platinum and gold.
950Pd/Ru (Ruthenium)
Naturally a white metal
Lighter then platinum
Does not require rhodium
Suitable for most designs (please contact us if you have designs that go from thick to thin to thick)
14KW/Palladium and 18KW/Palladium
Nickel free alternative to traditional white gold alloy
Softer than nickel alloy
Rhodium optional
What is Palladium?
Palladium is a rare silver-white metal of the noble metal group discovered in platinum ores in the early 1800's. This precious metal is soft and malleable when annealed and increases in hardness when cold-worked. Of the noble metals, palladium has the lowest melting point and is the least dense; with a specific gravity close to 14K white gold, palldium has roughly half the density of platinum.
Russia is the key palladium producer responsible for nearly half of the world's share, and South Africa, USA and Canada follow.
Palladium vs White Gold
The search for an affordable, naturally white, hypoallergenic, tarnish-resistant, precious metal alloy has been front and center in jewelry circles for decades. Palladium is an exciting alternative to white gold because it is a light-weight, workable, permanently and naturally white alloy that stays white without continual rhodium plating.

Why Choose a White Gold Palladium Alloy?
Nickel, the most common metal that is alloyed with gold to create a white color, is a well-known skin irritant. White gold palladium alloys do not contain nickel, making them a great choice for people with nickel allergies.
Plus, gold palladium alloys are also softer and less brittle than gold nickel alloys.
How Difficult is Palladium to Cast?
Palladium is extremely difficult to cast well because it is a veritable oxygen sponge when molten, and therefore requires a very controlled melting environment. Casting House is diligent about evacuating all oxygen from the casting chamber. In order to virtually eliminate the possibility of porosity in our palladium castings, we have modified our casting equipment and continue to make breakthroughs in the casting process.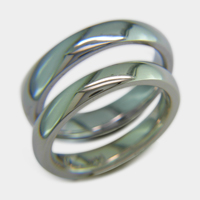 Foreground — White Gold
Background — Palladium
Actual high polished alloys
No Rhodium plating
No color enhancement of photo